India is a host to many small and big warehouses, which needs proper sap warehouse management systems to assist in the warehousing aspects of the business. By improving one's supply chain, a business is bound to grow and be able to expand overseas, which is only possible with the help of an efficient WMS system. 
Certain warehouse management system features help the owners to function their businesses efficiently. Moreover, the system offers great features, and some essential ones are provided below, which will help you to know WMS more effectively. Let us look at all the significant parts of the warehouse management system. 
1. Presence Of A Well Organized Inventory Management 
 No matter what the size of a business is, well-organized inventory management is what makes the difference in its success and failure. It keeps the count of products besides identifying high and low-performing products to sending off notifications when stocks run out. An efficient 
inventory management system
 is the backbone of good warehouse management software. 
There are various techniques involved in inventory management which initially started by keeping track of the products manually, which has been taken over by the latest automated smart system. It tracks inventory data via RFID and barcode readers and ensures that it can be located easily on the move. SKUBIQ is the perfect example here, as the best WHM system.
2. Creating Picking And Packing List 
 Picking and shortlisting products has always been considered to be a manual task that consumes a lot of time. This is where WMS comes into play to save a considerable amount of time. Wave picking, zone picking, and batch picking are done by the WMS and are considered to be one of the best warehouse management system features. 
It easily sorts and prints lists by order date, SKU, and bin location. It gives better accuracy in picking and packing the products, ultimately increasing the customer's satisfaction. 
 3. A Great Labor Management 
 The highest expense incurred by warehouses is on labor. It includes identifying employees, managing their schedules, and scheduling specific tasks for employees. It also helps employees maintain their attendance using QR codes to track their timing, work hours, etc., to keep track of their performance indicators. 
It reports labor productivity to allow managers to optimize their human assets. It also yields increased employee and customer satisfaction, improved management decisions, and critical data collection and reporting.
 4. Shipping Of Products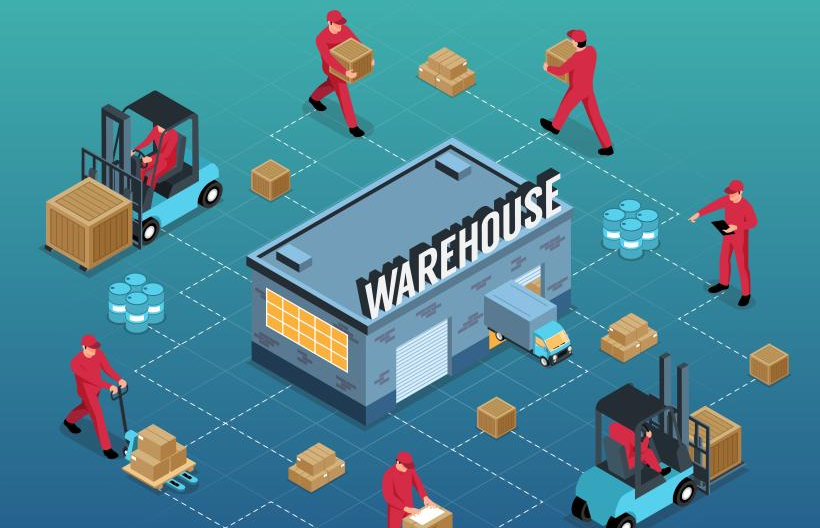 Self-fulfillment of orders involves a lot of hidden costs and consumption of time, affecting the efficiency of the running business. A smart WMS ensures to meet the needs of the customers. It also generates bills, invoices, packing sheets, and other shipping-related documents. An efficient WMS solution helps in freight procurement, packing & dispatch, digital assistance, putaway, goods checking, etc. 
 5. Order And Billing Management 
 Order management can be enhanced by a controlled flow of products through your warehouse. It tracks the client metrics across multiple levels and also keeps the extra expenses under control. The warehouse management software increases order throughout and accuracy and speeds up the shipping processes, which acts as added warehouse management system features. 
 6. Lessens The Risks Involved In A Business
 The risk management of a business is an extensive and critical component of a successful business. A good WMS solution offers risk management advantages by considering potential hazards and existing disruptions. This warehouse functionality prevents overstocking and product waste, including stockouts. The visibility that WMS provides enables a deeper understanding and prediction of client behavior and their demands which prevents the wastage of products resulting from overproduction. 
 7. Financial Management 
 To boom, a business, tracking finances is an important aspect. A warehouse management system provides tracking and reporting on all aspects of a business helping the managers to make well-informed decisions. It also automatically calculates revenues and taxes, minimizing the tasks that need to be done. It also minimizes expenses on non-required features, and you get to pay for the features that you use, which saves a lot of money in the long run. 
 8. Products Return Management 
 Other warehouse management system features include products return management as well. Returning products is something that no company wants to go through, but to maintain a good relationship with their customers, they have to accept returns, and this is possible through warehousing in supply chain management. 
Returning products is quite a lengthy process which starts with the customer creating a return request to the company arranging for the product pickup, and initiating the refund. Most eCommerce companies tie up with third-party logistic companies for the pickup and handling of return products. Though tying up with third-party logistic partners saves a lot of time, the high expenses that come with it don't go well with most companies. 
With the WMS system, automation and streamlining of the return procedures can be handled effectively. It keeps track of return status, and return processes, manages refunds, be they partial or full, and management of returned products. 
 9. Creating Different Labels 
 We all agree that managing a warehouse is not easy due to the number of products that, if not labeled properly, can lose their count, impacting negatively on businesses. These labels might contain a lot of things that are required by the customer but are of great importance to business owners and employees. They have manufacturer information and barcodes to make the job easier in its shipping.
But many times, business owners do not want to have some part of the product's information written on the label. A warehousing management system can create barcodes that contain information that can be bifurcated into smaller pieces and gives the customer a smaller piece of information relevant to them and store the rest for business people to use in case of regulatory and operational requirements. 
 10. Integration With ERP ( Enterprise Resource Planning ) 
 An ERP is an all-in-one solution for effective warehouse management systems. ERP automates the activities in an organization like accounting, inventory management, and also customer relationship management. It facilitates accuracy and tracks down the real-time data of the products. The integration of WMS with ERP helps in assisting sales and better operations and finance, making the employees take better decisions. 
Conclusion: 
The warehouse management system features are much larger in number, but here we have discussed some of the significant features that make WMS the obvious choice for businesses to go for to thrive in today's economy. India is on the way to reaching a great height in the economic sector but faces some loopholes in the arena of logistics and warehousing, which wastes a lot of resources and manpower. Similar to SKUBIQ WMS system is undoubtedly the best choice to get out of the shortcomings in businesses.